 Banking Built for Attorneys

Manage and maintain

IOLTA and business checking all in one place
Our pricing is simple—there is no charge for Nota. When you open an M&T Bank business checking account with or without an IOLTA, you get NO monthly maintenance fees, NO minimum balance requirements, NO wire fees, higher mobile check deposit limits and more.²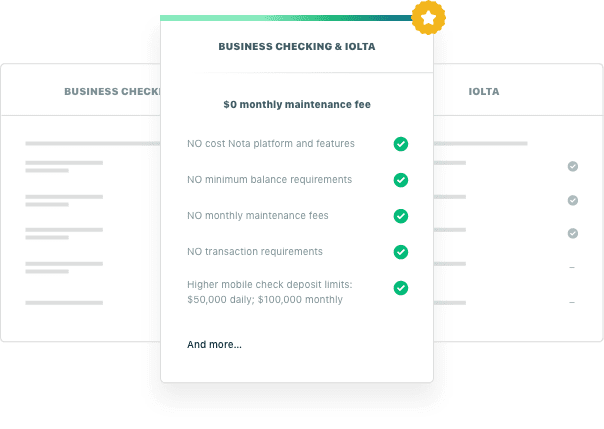 Give our team a little information, and an account executive specialist

will follow up with details on how Nota can help you.
Talk to an account executive specialist today about how you can use Nota to save time and focus on your most important work.
As an added bonus you'll get an eBook that provides tips on how to avoid banking headaches as a small firm attorney.
Connect your bank account with the tools you use every day and eliminate the time spent working between two systems. Nota works in collaboration with major practice management, legal payment and accounting platforms to optimize your efficiency.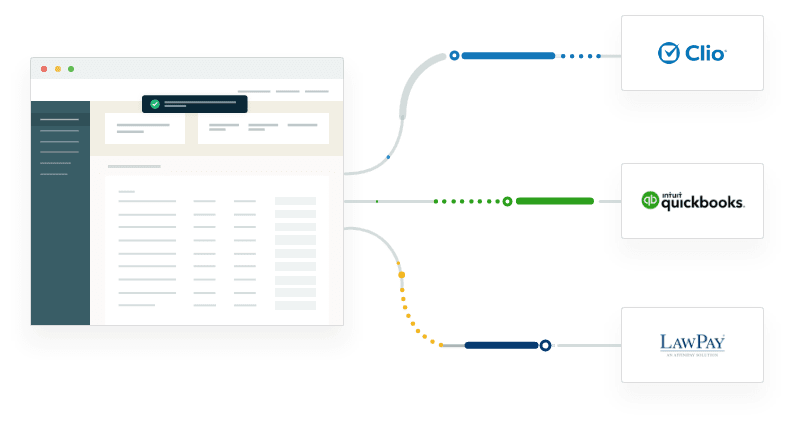 Delighted Customers, Delighted Firms
"Nota is your practice in a snapshot. You don't have to have three different windows and apps running at the same time."
"It's so simple and such a life changer. Nota is a product that I never knew I needed, that I can no longer live without now."
Matthew Blaisdell Owner, Blaisdell Law
Rachael Davey Owner, Davey Law
Banking services powered by M&T Bank, Member FDIC. Privacy Policy | Terms of Use
References to "IOLTA" or "Interest on Lawyers Trust Account" shall be interpreted to include "IOLA," or "Interest on Lawyer Account," and "IOTA," or "Interest on Trust Account," as applicable in a particular state.
Nota is a product/service offered by M&T Bank and is available to attorneys whose offices and practices are in VT, NH, ME, MA, NY, NJ, MD, PA, DE, CT, VA, DC, FL, or WV. IOLTA accounts held by lawyers in these states must be subject to applicable state rules and regulations. The advertised product/services and their features and availability are subject to change without notice at any time. Use of the product/service is subject to and governed by certain terms, conditions, and agreements required by M&T Bank.
© 2022 M&T Bank. All Rights Reserved.
1 There is no charge for the use of Nota. M&T Bank's standard deposit account and service fees may apply.
2 The advertised pricing is for new-to-bank customers that open both an M&T IOLTA and M&T Simple Checking for Business account and enroll in Nota. All wire charges on the operating account are waived. This includes phone, online, and branch-initiated wires. Outbound domestic wire functionality is only available with a linked operating account. The customer must be a law firm with 5 or fewer partners, members, or managing members. Counsel, of counsel, associates, paralegals, support staff, and those in similar roles are not included for purposes of determining whether a law firm qualifies for the advertised pricing. M&T Bank's standard deposit account and service fees still apply for those that are not enrolled in Nota.